Problem – Fed up looking for Spare Parts ?
We stock and supply a comprehensive range of spare parts for all makes of domestic and commercial appliances.
To ensure a speedy service please have the relevant make and model number of your appliance available and our fully qualified team will check for the spare parts you require.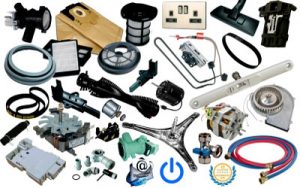 Spare parts purchased can be collected or optionally delivered to your home or workplace by courier service for your convenience. Please note that delivery of some bulky or fragile parts may not always be advisable.
---
Spare parts should always be fitted by a suitably qualified person due to the risk of injury or electrocution. If you live in greater Dublin and would prefer to have an engineer inspect and estimate the repair cost for your appliance click here.
---